"A patent is an intellectual property right which provides it's owner right to exclude others from making, using, selling, and importing an invention for a limited period of time, usually twenty years, without authorization."
The Trade-Related Aspects of Intellectual Property Rights (TRIPS) Agreement between the member nations of the World Trade Organization (WTO) specifies the protection and enforcement procedures for all the intellectual property rights including Patents.
We @ Datt Mediproducts (DMP), are devoted to manufacturing & marketing of products of impeccable quality conforming to international standards. The Department of Life Sciences (DLS) is a research and development wing of Datt Mediproducts, recognized by the Department of Scientific and Industrial Research (DSIR), a unit of Government of India, with the state-of-the-art facility and well qualified and committed scientific staff working on the development of advanced wound care management.
DMP applied for 17 patents worldwide. Read further to know more about the patents which have been granted in the US.
US Patent No.: US 10,124,084 B2
Date of the Patent Granted: Nov. 13, 2018
Title of the Patent: A READY TO USE BIODEGRADABLE AND BIOCOMPATIBLE DEVICE AND A METHOD OF PREPARATION THEREOF
Brand: VELSEAL
The patent is granted for both the product as well as the process of its manufacturing. The invention is a ready to use the biodegradable and biocompatible device with high porosity, used to stop bleeding within a couple of minutes. The scaffold of the present invention comprises of a combined application of air dry and freeze dry method. The invention has excellent ventilation properties and can easily be removed from the wound without causing any extra hemorrhage.

US Patent No.:US 10,076,552 B2
Date of the Patent Granted: Sep. 18, 2018
Title of the Patent: MULTIFUNCTIONAL FORMULATION COMPRISED OF NATURAL INGREDIENTS AND METHOD OF PREPARATION / MANUFACTURING THEREOF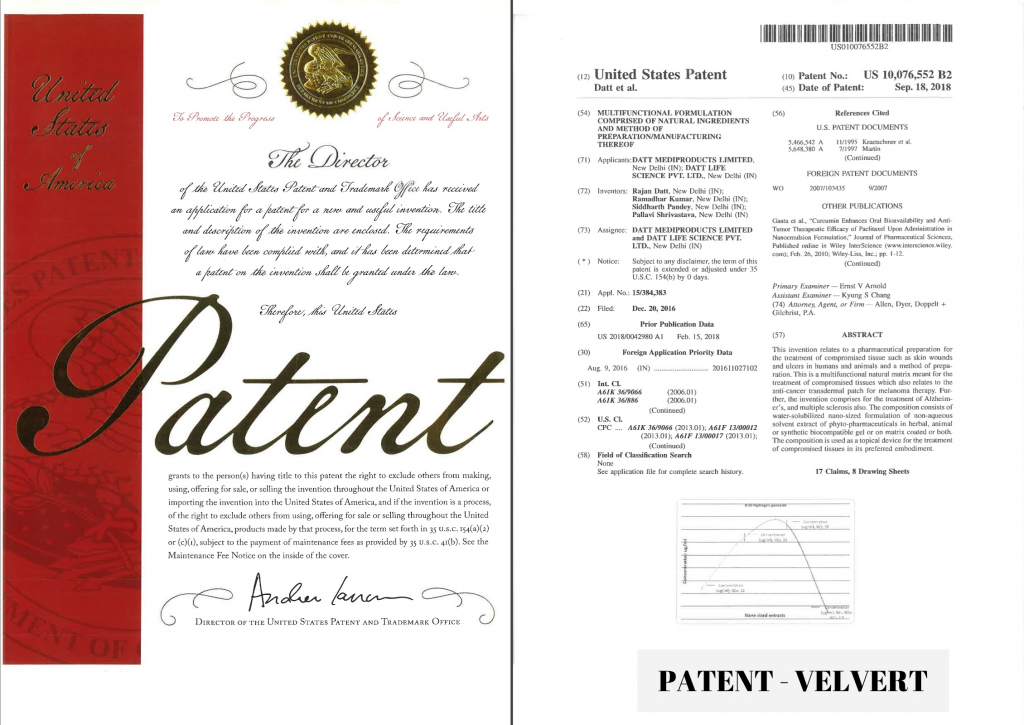 Brand: VELVERT
The second patent is for a multifunctional formulation made from natural ingredients and the process to manufacture the same. This pharmaceutical preparation consists of the water-solubilized nano-sized formulation of a non-aqueous solvent extract of phytopharmaceuticals in herbal, animal or synthetic biocompatible gel or on matrix coated or both. This device is useful for the treatment of compromised tissue such as skin wounds and ulcers in humans and animals. It also relates to the anti-cancer transdermal patch for melanoma therapy and for the treatment of Alzheimer's and multiple sclerosis also.

US Patent No.:US 10,004,830 B2
Date of the Patent Granted: Jun. 26, 2018
&
US Patent No.: US 10,098,986 B1
Date of the Patent Granted: Oct. 16, 2018
&
US Patent No.: US 10,149,924 B1
Date of the Patent Granted: Dec. 1, 2018
Title of the Patent: READY TO USE BIODEGRADABLE AND BIOCOMPATIBLE ARTIFICIAL SKIN SUBSTITUTE AND A METHOD OF PREPARATION THEREOF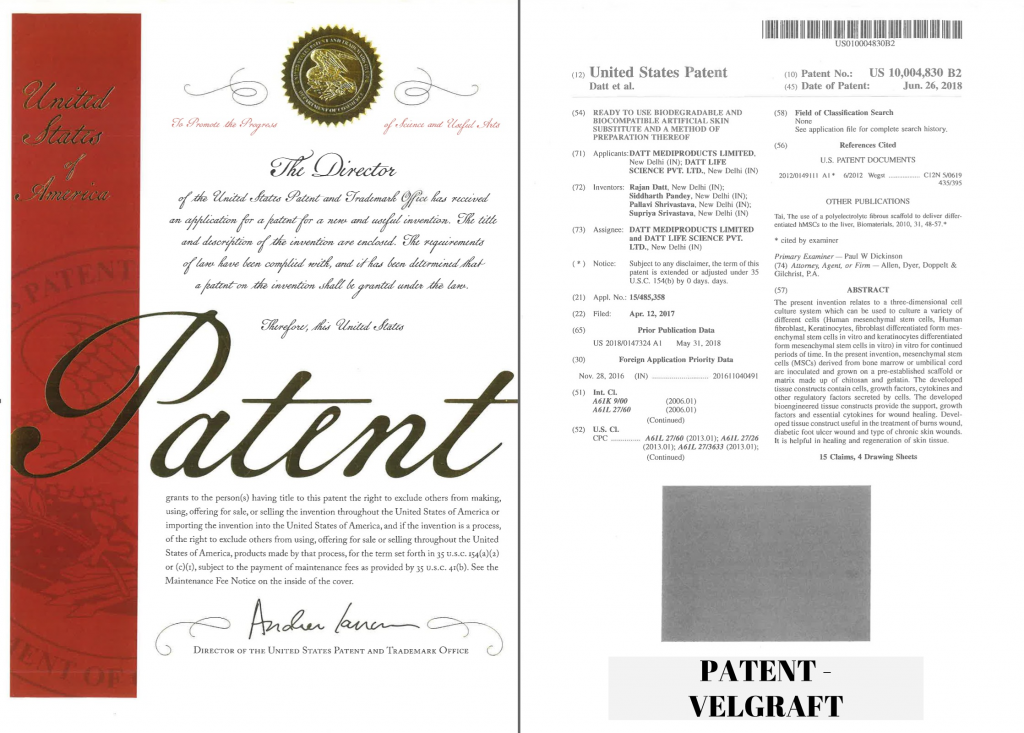 Brand: VELGRAFT
The third invention is for the brand VELGRAFT for which three US patents have been granted. It relates to a three-dimensional cell culture system which can be used to culture a variety of different cells (Human mesenchymal stem cells, Human fibroblast, Keratinocytes, fibroblast differentiated from mesenchymal stem cells in vitro and keratinocytes differentiated from mesenchymal stem cells in vitro) in vitro for continued periods of time.
This describes an invention in which mesenchymal stem cells (MSCs) derived  are inoculated and grown on a pre-established scaffold or matrix made up of chitosan and gelatin. The developed tissue constructs contain cells, growth factors, cytokines and other regulatory factors secreted by cells and provide the support, growth factors and essential cytokines for wound healing.
This invention is useful in the treatment of non-infected burn wounds, diabetic foot ulcers, venous leg ulcers and other types of chronic skin wounds. It's helpful in the healing and regeneration of skin tissue.
 US Patent No.: US 15/081,202
Date of Patent Granted: January 2019
Title of the Patent: Ready to Use, Hydrophilic, Self-dispersive, Fragmentable, and Biodegradable Porous Sponge Matrix and a Method of Manufacturing Thereof
Brand: VELNEZ
The 6th patent is for the invention related to a porous absorbent Composite Material, which may be used e.g. in the form of a plug or tampon, for instance for packing antrum or other cavities of the body. As it is a hydrophilic Self-Dispersive, fragmentable and Bio-Absorbable Porous Composite foam it is helpful in controlling bleeding, wound closure, prevents tissue adhesion and/or support tissue regeneration.
Visit our website @ www.dattmedi.com